Fulbright Fellows Visit IgnitED Labs Tempe
On February 25th, sixteen Fulbright Fellows attending ASU for the Spring 2020 semester visited the IgnitED Labs in Tempe for a tour. Fellows from Bangladesh, Brazil, Finland, Greece, India, Indonesia, Philippines, Senegal, Singapore, and Uganda walked through three different demonstrations of our most popular emerging technologies. Divided into small groups, they experienced IgnitED labs spaces dedicated to augmented reality and virtual reality (AR/VR), programming and robotics, and 3D printing.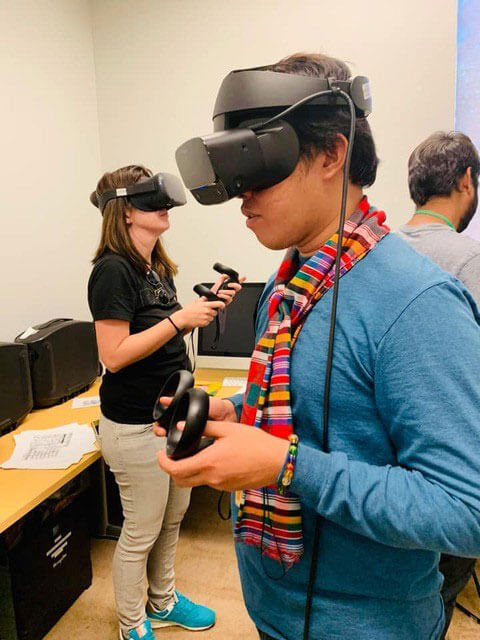 Programming and Robotics
In our Maker room, the Fullbright Fellows were able to learn about how programming/coding and robotics can be integrated into classrooms K-12 regardless of discipline. We began our time with a brief tour of the available technology in the room such as our Google AIY kits, Raspberry Pis, Little Bits, and Lego Robotics. I found that there was a lot of interest around the Google AIY kits/Raspberry Pis. Seeing as machine learning is becoming more and more integrated into our everyday devices, they felt that the kits provided a fun and interesting approach to introducing these technological concepts to kids. The Raspberry Pis also exemplified the versatility of potential tech integration. Because it can be programmed in a multitude of ways, they found it a valuable resource for disciplines outside of math or science. In this same regard, the way Little Bits and the Legos can be utilized in class presentations was also valuable. We discussed how students can expand their book projects or history presentations beyond poster boards. Simple and fun technologies can provide students with new ways of communication and creation even in the smallest ways. Finally, I presented our Spheros and Sphero Minis in conjunction with our Activity Mat and Cards. Here we talked about how these could be integrated into classrooms to help aid in teaching the application of math concepts. I also informed them of the vast amount of teacher-created lesson plans available on the Sphero community website. There, they could see how other educators around the world were using Spheros! After that, they took a test drive with our Sphero Minis on the Activity Mat. They all had a fun time rolling around to different parts of the map, laughing and enjoying how interactive technology can be pedagogical and exciting!
3D Printing
The Fullbright Fellows in this lab space learned about the history, mechanics, and process of modern additive material 3D printing that is most widely available now to all public and private users. Most Fellows had never seen a 3D printing machine in use, so I walked them through all of the parts of the Ultimaker 3 printers that the labs own and explained the file processing and formats that the printer uses. I sent a file for a small coffee cup to print in ten minutes so they could watch it while I explained the material being used, what was happening inside the printers, and the variations of designs that are possible and materials available. Lastly, we had a discussion about where and how they could see themselves using a 3D printer as an educational tool in their schools and classrooms. Many of them agreed that the 3d printers would be good for their schools for prototyping, physically creative assignments, interactive curriculum, and even storytelling devices for their lesson plans.