Visitors explore technology with IgnitED Labs during 2019 Family Weekend
During the 2019 Family Weekend, staff members from all locations of the IgnitED Labs collaborated to lead a variety of activities in Tempe's Farmer Education Building. Some staff members led visitors on tours of the Tempe Lab and its varying technologies, while others aided visitors in using robotics and Virtual Reality (VR) technologies in the building's atrium. This made it possible for visitors of all ages and backgrounds to have hands-on interactions with the technology available in the IgnitED Labs.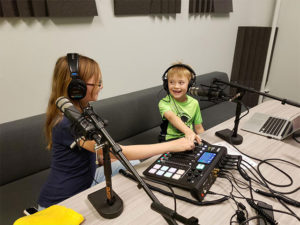 Many of these interactions began in the atrium. There, the Labs' Education Technology Champions guided visitors in setting up their virtual reality experiences, as well as controlling a
Sphero
robot in the atrium's fountain. Microsoft joined them to provide visitors with coding experiences with
XBOX Minecraft Education Edition
. These interactions often led to visitors touring the Lab itself. A direct look at technologies like three-dimensional printing, telepresence robots, and Augmented Reality (AR) offered visitors insight into what the classrooms of tomorrow may look like. With the wide variety of technologies available to explore, many visitors were able to find a technology they were highly interested in and stay for hours exploring. As an Education Technology Champion myself, I witnessed children return time after time to try technologies that intrigued them. A pair of elementary-aged siblings began the morning as our first users of VR in the atrium. As the day went on, they returned to control Sphero robotics around the fountain. Later, they tried
Nintendo Labo
and audio recording equipment in the Lab. The technology offered these siblings interactive experiences they enjoyed for hours—directly demonstrating the type of engaging learning experiences these technologies can offer young students. These types of encounters are always available to the ASU community in each of the IgnitED Labs at Tempe, Polytechnic, and West campuses.