Polytech Open Door February 29
On February 29th, our IgnitED Lab team took part in the Polytechnic Open Door Event. With our VR, Nintendo Switch, 3D Prints and Spheros, we hoped to teach visitors the educational purposes of these technologies along with giving them pure fun and entertainment. Throughout the day, we heard laughs, screams, and excitement throughout our tent as children of all ages engaged with new emerging technology. Every visitor was impressed with our Oculus Quest, as many of the children had always heard about Virtual Reality but had yet to experience it. Luckily, our Lab was able to give these kids new experiences! The younger children were drawn to our Spheros as they could race against and hit each other's robots while sitting in the grass with their friends and family. Visitors chatted with our Educational Technology Champions to better understand our lab and the opportunities within.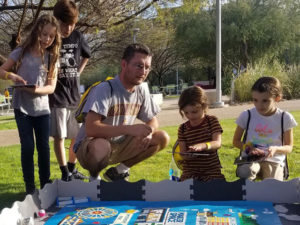 The technology we showcased at Open Door proves to be useful for students and future educators, like me. Technology within education provides an interactive and engaging learning alternative for students who do not respond well to traditional lecture-style teaching. These technologies are often immersive and allow students to experience real-world applications of the topic which is the focus of their learning. I thoroughly enjoyed interacting with the students of all ages and helping them understand more about the technologies. Seeing the smiles on their faces as they crash Spheros or beat the level on the VR game is rewarding. I'm looking forward to our next Open Door event!