IgnitED Labs and IndigeDesign volunteers 3D print face masks for Navajo Nation
COVID-19 has hit the United States hard and the Navajo Nation is no exception. Many of the community's members are high risk asthmatic and diabetic with little access to grocery stores, water, and supplies as there are only 13 grocery stores on the Navajo Nation – a territory that sprawls across 4 states and almost 2,000,000 acres of land (approximately the size of West Virginia). There were 69 cases of COVID-19 (as of 03/26) with projections stating 1 out of 3 Navajos on the reservation will be infected if immediate measures are not taken. Navajo Nation hospitals are not prepared for those numbers. They need items like face masks, gowns, and face shields, but have not received them due to delayed Medical aid in an already ignored reservation community.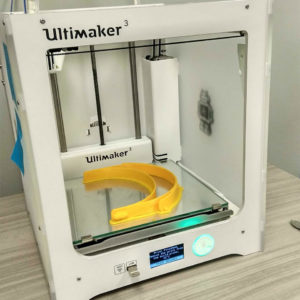 The Chief Operating Officer of the Tuba City Regional Health Care Corporation, and the Emergency Management Specialist (EMS) of the Gallup Indian Medical Center reached out to the IndigeDesign Collab in Phoenix. This Collab works with other organizations and people to help indigenous communities through design. The EMS of Gallup reported that he had only 30 face shields for 200+ healthcare employees in Gallup, NM. The search began for more face shields, and the IndigeDesign Collab sent out requests to use 3D printers.
The Ignited Labs responded to this call within hours of getting this message from the IndigeDesign Collab. The Tempe Lab, which was shut down as a response to the threat posed by the COVID-19 outbreak, was opened to allow staff to 3D print face shields for the Navajo Nation. I volunteered my time to print face shields while also giving real-time technical support to the Sun Devil Learning Labs by managing Live K-12 educational broadcasts on YouTube. Living close to the campus was helpful as I could hop back and forth from my home to the lab for 3D printing. The IgnitED Labs are producing 6-8 face mask head bands from its Ultimaker 3D printer per day, and is laser cutting transparent shielding material with the Glowforge Laser Engraver. Finally, a representative of the IndigeDesign Collab will collect all these materials and sanitize them as per the FDA guidelines before assembling.