Educator-to-educator: digitally sharing learning at ISTE Live 2020
To put it mildly, 2020 has been a year of change, casting aside what was, with what has to be, and the academic conference experience has followed suit. What was supposed to be an in-person presentation in Anaheim, CA earlier this year evolved into a virtual session during ISTE 20 Live. The International Society for Technology in Education (ISTE) transitioned their annual conference event to a fully online digital platform, allowing presenters and attendees from all over the world to convene, share, and learn. Dr. Sean Leahy and I took part as we presented our session Introducing Future Educators to Emerging Technologies through Inquiry.
This was a chance for us to discuss the first module in our redesigned course EDT 180 Technology Literacy: Problem-solving using Digital Applications. The course focus is learning with technology, and MLFTC students experience the content through a framework based on John Dewey's four natural learning impulses: inquiry, communication, construction, and expression. Students complete four modules that correspond with the impulses. During the inquiry module, students choose a topic or skill to learn and investigate how they might learn using artificial intelligence (AI), extended reality (XR), and Internet of Things (IoT). Components of the process call for students to apply the Principled Innovation framework as they consider the unintended consequences of emerging technologies as well as misuse of technologies. A full description of the course experience is available in this recently-published article Embracing failure in a first-year technology course.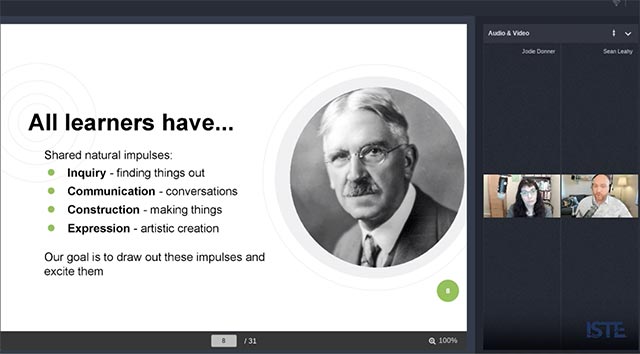 Dr. Leahy and I shared the research and rationale for the course and led our participants through each part of the process of the inquiry module. Having each taught this version of the course multiple times, we had much to contribute about our experiences, student feedback, challenges, and successes.
We provided participants with a digital "toolkit" that included assignment documents, a matrix of content resources, and examples of student projects. Our aim is to give other educators ideas and resources they might reuse or remix to engage their learners in similar ways. Even though COVID-19 shifted the dates and format, presenting virtually about emerging technologies seemed appropriate during an educational technology conference. Being able to discuss the course and give participants a folder of digital assets through the virtual platform was rewarding.